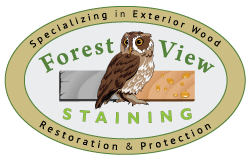 Exterior Wood Restoration and Protection
We provide a dynamic, comfortable, fun and positive working environment. Fully insured and very safe conscious.
Our Business:
We specialize in exterior wood restoration and protection. Our season runs between early-March to mid-October. We have been in business for over 15 years and have a very positive reputation from our clients, current and former collegues. Tasks may include pressure washing, various prep work, staining and sealing wood. We train those who are willing to learn a unique skill, work hard, and appreciate quality. Our company is always looking for good people. Whether you are looking for full time work, a part-time or weekend job, or even want to be self-employed as a sub-contractor, start by filling out an online application below.
Hiring Process:
All applications will be reviewed promptly and we will contact shortly.
Only serious applicants will be considered.
Related Searches
student summer jobs toronto, weekend jobs toronto, construction jobs toronto, summer student jobs toronto, student summer jobs toronto, project manager jobs toronto
Serving Toronto since 2000
Forest View Staining
9.8

/

10
based on
78
reviews.
Employment Opportunities
Your request has been sent. If you require further assistance, please email us directly at: info@forestviewstaining.com
Pressure Washing
Deck and Fence Staining
Specialty Maintenance to Exotic Hardwoods

Respect for the environment
(647) 874-7978
Our Quality is Guaranteed
We are one of the only companies in the GTA that guarantee our work!
We are committed to exceeding client's expectations and will ensure that our projects sustain quality and durability or we will re-service the project free of charge.
We have Earned the Trust
Many of our clients hired us to fix the problems that previous companies have caused. Sadly, many of these occurrences happened within the first year after the project was completed...
Below is one of many examples of this:
2011
Dan,
Thank you for the excellent work that you did to bring my deck back from the ugly state it was in as a result of an incompetent deck stain company. A prior deck stain and repair "expert" had refinished my deck the year before and it began to show problem areas only a few months later. The owner had promised on numerous occasions to return and fix this issue, but he never did. Your company was highly recommended to me by a relative and you sure lived up to claims of wonderful work and exceptional customer service.
After our initial meeting, I knew that you understood exactly what I was hoping to accomplish with my deck. You even pointed out many rotting stair risers and pickets which needed replacing. How wonderful to have a stain refinisher that also repairs these problem areas.
I look forward to your company taking care of the needs of my deck for many years to come. Gloria B. - Forest HillRebuilt Deck Staircase, Removed Peeling Stain, Refinished Deck