Deck Staining and Sealing
Solid stains
Custom Mixed Semi-transparent stains
Clear preservatives
Wood restoration
New wood protection
Custom Designs to Suit your Space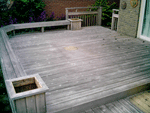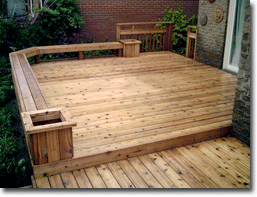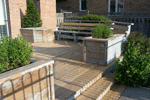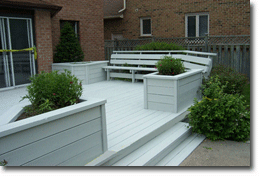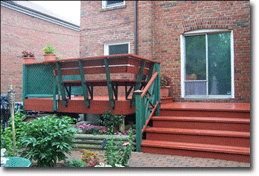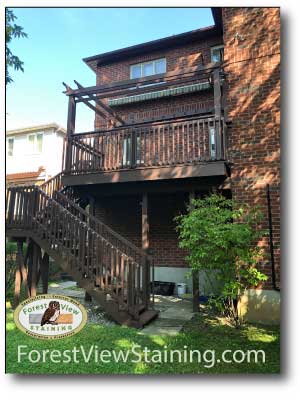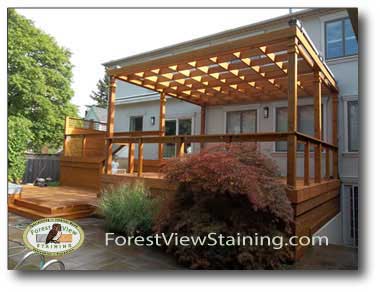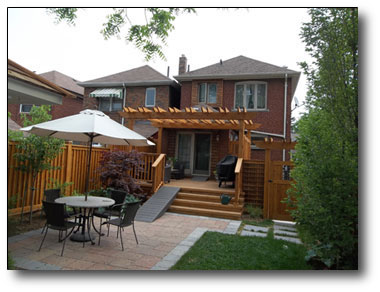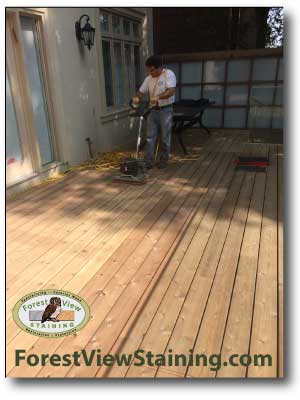 People call us to ensure their decks are in good hands.
Every deck is unique in its own way and always requires some thought before jumping into a staining project.
Without considering existing factors such as environment, daily usage and overall construction quality, it could be seriously shorten the life of any stain product. The key reason being is that not every stain is made equal and requires a specific approach. Some stains are meant for high UV areas, others for high moisture, while others and simply are made for specific wood species. The varieties are endless.
We have specialized in deck staining for over 20 years and have faced countless scenarios. We are very well researched and are able to assess and complete projects in a swiftly and professionally manner every time.
When you want an great job at a reasonable price, give us a call.
Staining Requires an Entirely Different Approach Compared to Painting
Traditional methods of staining and sealing exterior wood generally require a lot of unnecessary sanding and stain strippers every application. The result is that a homeowner is paying for needless labour and will often be less inclined to maintain the wood as frequently as they should.
We eliminate the possibility of a stain failure. When stains fails prematurely, this generally means that the old stain has to be removed to the bare wood in order to rectify the problem. The deck stain removal process is often very costly.
Our goal is to help homeowners enjoy more of their outdoor space.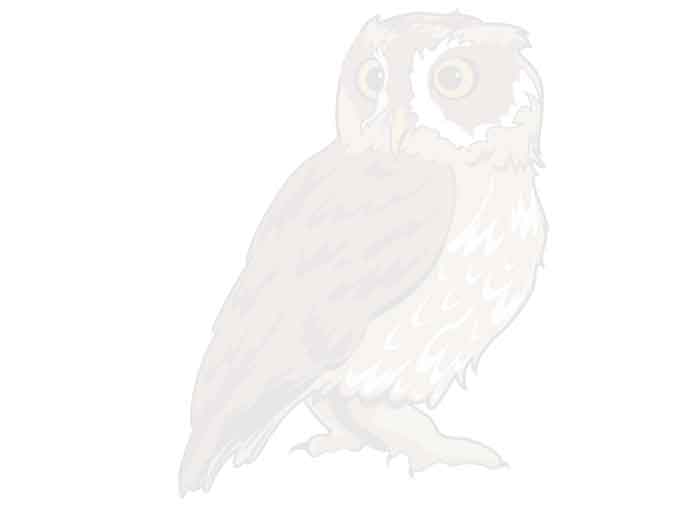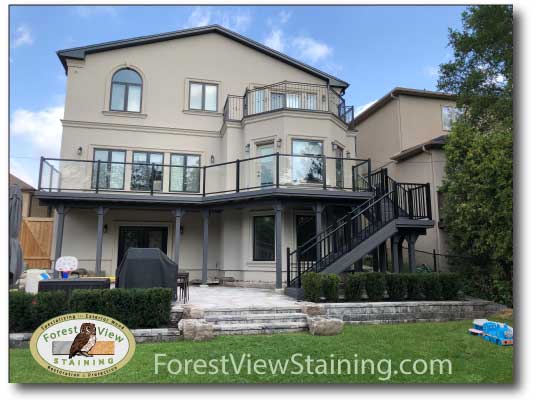 We Find Solutions for any Wood Project
We are often called to perform very irregular types of projects and we are always up for the challenge. Regardless of the complexity of design, surrounding environment, or even access restrictions while transporting tools, we will always find a way to come through.
Enviro Friendly Solutions
Your request has been sent. If you require further assistance, please email us directly at: info@forestviewstaining.com

Respect for the environment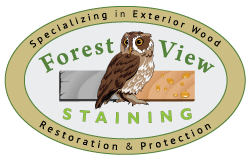 Exterior Wood Restoration and Protection
Deck and Fence Staining
Specialty Maintenance to Exotic Hardwoods
Pressure Washing
Serving Toronto since 2000 (647) 874-7978
Our Quality is Guaranteed
We are one of the only companies in the GTA that guarantee our work!
We are committed to exceeding client's expectations and will ensure that our projects sustain quality and durability or we will re-service the project free of charge.
We have Earned the Trust
Many of our clients hired us to fix the problems that previous companies have caused. Sadly, many of these occurrences happened within the first year after the project was completed...
Below is one of many examples of this:
2011
Dan,
Thank you for the excellent work that you did to bring my deck back from the ugly state it was in as a result of an incompetent deck stain company. A prior deck stain and repair "expert" had refinished my deck the year before and it began to show problem areas only a few months later. The owner had promised on numerous occasions to return and fix this issue, but he never did. Your company was highly recommended to me by a relative and you sure lived up to claims of wonderful work and exceptional customer service.
After our initial meeting, I knew that you understood exactly what I was hoping to accomplish with my deck. You even pointed out many rotting stair risers and pickets which needed replacing. How wonderful to have a stain refinisher that also repairs these problem areas.
I look forward to your company taking care of the needs of my deck for many years to come. Gloria B. - Forest HillRebuilt Deck Staircase, Removed Peeling Stain, Refinished Deck
We provide a free on site consultation to all inquiries. Feel free to contact us via phone or using the form below.